Japan Mission Trip: Summer 2001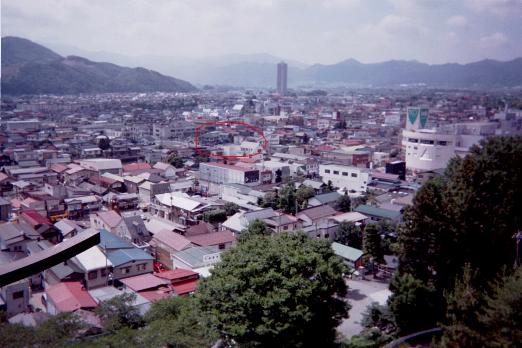 This is Kaminoyama, the city we stayed in for 5 weeks. This picture was taken from Kaminoyama Castle. I've circled the entrance to then street where our house was so if you're ever in Kaminoyama, you could stop by, but we most likely won't be there.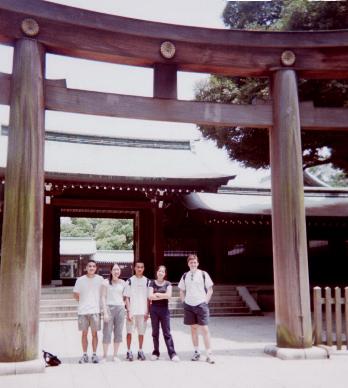 Here's the team. From left to right: Eric, Joyce, Me, Grace, and Jonathan.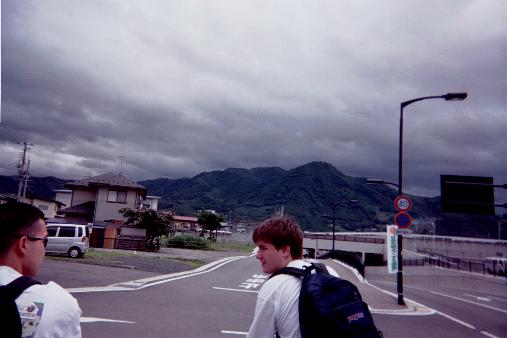 It took a while for us to get used to biking around the Kaminoyama. Here, we're figuring out how to get to the church.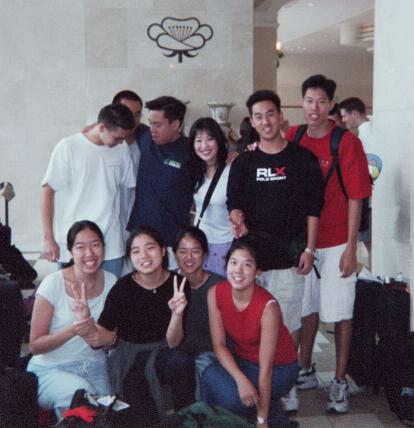 What's Eric doing? Where'd his hand go? I hope he didn't hurt Galen.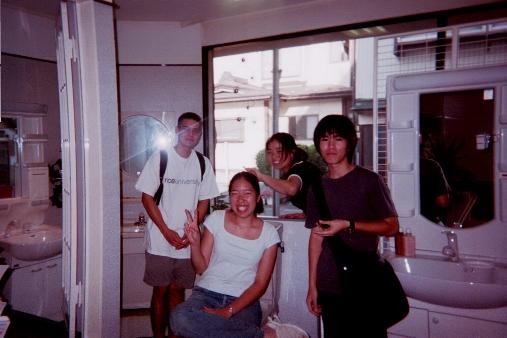 We lived across the street from a toilet shop. One day we decided to go in. And we took pictures.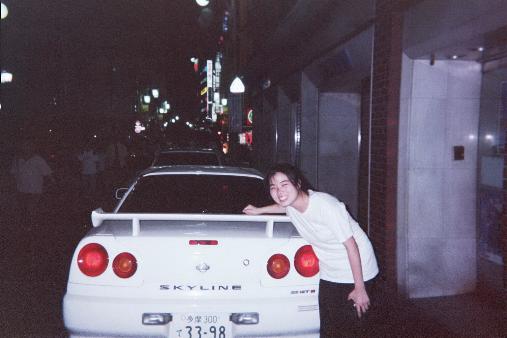 It's Grace and a Skyline in Tokyo.
Yee-haw! Here's a picture after our Texas Party for the adult enlglish class.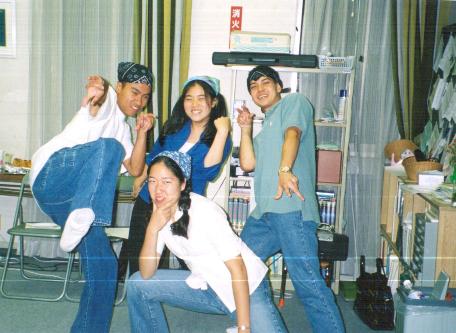 No comment.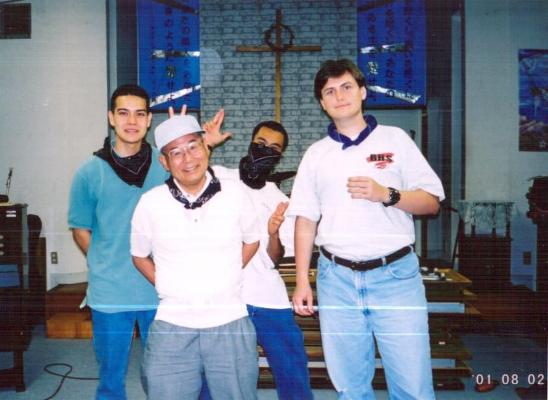 ah, this is a fantastic texas picture with Hideo.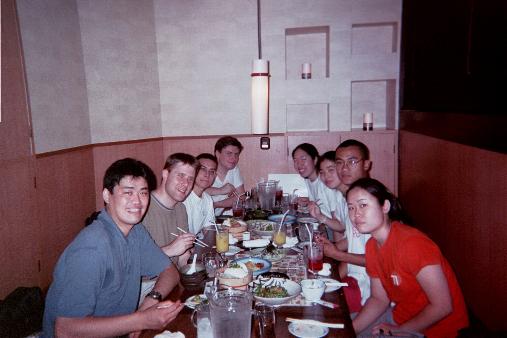 Now we're eating with Mappe and another 6-week team. The octopus was delightful!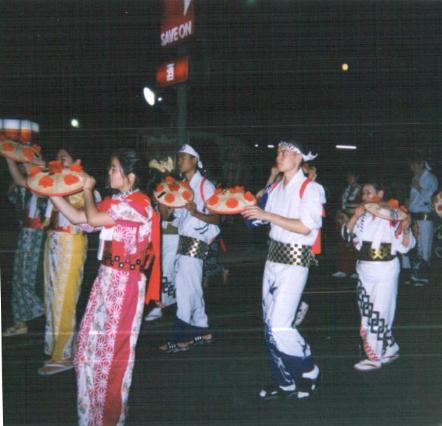 We were fortunate enough to be able to participate in a parade. Krause even got in the newspaper. It's not everyday they see a big white man dancing down the street.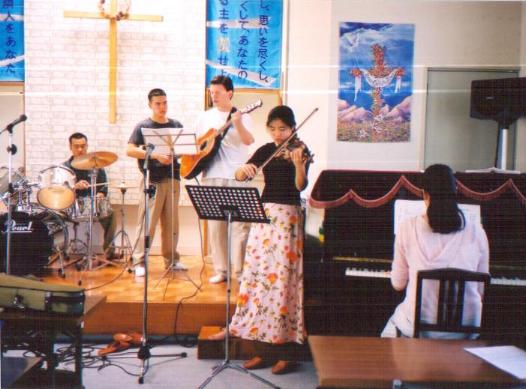 We played a lot of music for the church and for all the Japanese people we met. Singing in Japanese is pretty hard. Good thing drummers don't need to sing.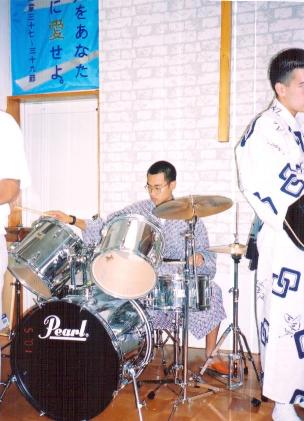 Ever play the drums in traditional Japanese clothing? Pretty tough.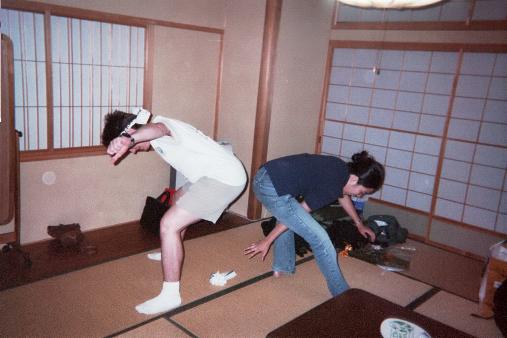 Krause and Joyce race to grab the piece of cloth underneath them. In the end, only one will be left standing. The other will have a sore butt and will be sprawled out over the floor.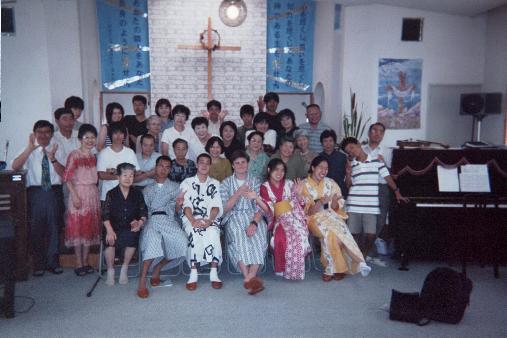 It's Kaminoyama Baptist Church. They threw a huge party for us when we left. We were embarassed.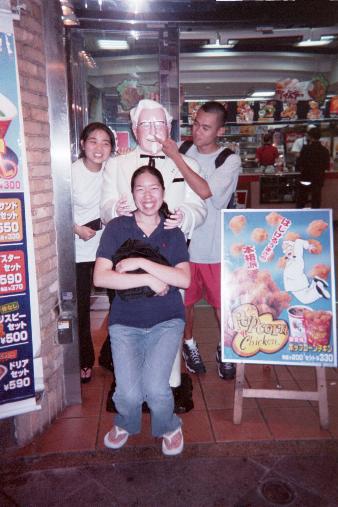 We met the Colonel in Tokyo. I think he was happy to see us, too.