Vintage Beef
It's an acquired taste...okay, not really ~~~~~~~~~~~~~~~~~~~~~~~~~~~~~~~~~~~~~~~~~~~~~~~~~~~~~~~~~~~~~~~~~~~~~~~~~~~

Beef Story #40:
Author: Kong



ok.. so there this person that i talk to on IM sometimes.. well, i remember talking to this person.. we'll call him/her apu.. so, i'm talking to apu and of course the conversation doesn't have much substance in the first place.. when it does get kinda interesting, i ask apu a question.. i get no response for the longest time, and then, "shut".. apu leaves without answering the questions or giving warning before getting offline.. what's up with that?




THE VERDICT: WELCOME TO THE CLUB
~~~~~~~~~~~~~~~~~~~~~~~~~~~~~~~~~~~~~~~~~~~~~~~~~~~~~~~~~~~~~~~~~~~~~~~~~~~
Beef Story #39:
Author: David Kong


ok, i took this class last year.. it was an econ class, so reubs will understand the suckiness of that subject.. anyway, i thought i was doing well.. it was actually pretty easy, so i never showed up for class, especially at the end of the semester.. for some reason tho, my grade for that class was much lower than i expected.. i'm pretty sure there was a mistake on the final, but i can't check it cuz when i went to the profs room, a tab under his name says "ON LEAVE" so, i talk to the econ secretaries and they tell me to email the prof.. i email him but never get a response back.. so now i have to wait till next semester to check on my grade.. he should've responded to my email.. what's he doing? econ at home? i think not.. also, his pinky is permanantly locked in a double jointed position.. so weird.



THE VERDICT: ECON--BEEF IS THY NAME
~~~~~~~~~~~~~~~~~~~~~~~~~~~~~~~~~~~~~~~~~~~~~~~~~~~~~~~~~~~~~~~~~~~~~~~~~~~
Beef Story #38:
Author: LeePee


At school, there are four different hot lunch tray lines. Usually I go into the "country cafe," but on pep rally days, I opt for a salad since the lines are so busy and long, and go into the Mexican Pizza line. The beefy part of it is that a normal lunch costs $1.45 but there is the lady in the Mexican Pizza line who charges $.10 extra for everything. Like I bought chocolate milk there once, and I had a quarter ready to give to her, but she shook her head and let my quarter drop to the floor as i attempted to transact with her, and said very tartly, "thirty-five CentS." And i was like grrr...and so i went to another line and got milk for $.25. Anyways, I think lunch lady cashiers shouldn't change prices like that without informing people. She's a meanie.

Oh yeah. And if you buy a salad with milk, it costs $1.45 or $1.55 depending on which cashier. But if you buy it without milk it costs $2.00. I thought that was very backwards but oh well.




THE VERDICT: I AM THE LORD OF THE RINGS BUNCH OF CROCK
~~~~~~~~~~~~~~~~~~~~~~~~~~~~~~~~~~~~~~~~~~~~~~~~~~~~~~~~~~~~~~~~~~~~~~~~~~~
Beef Story #37:
Author: hmph


Hmph. I'll try to make this beef as short as possible.
So my friend likes or "used to like" (but we all know still likes) two guys who are exactly the same except their names are different. Let's call them "Boob" and "Baboo." She wants to ask Boob to this formal that is coming up. She has been agonizing for many weeks about this and how to ask him, and if he really does like her, and has been talking to Baboo on IM about Boob and asking Baboo's opinion and advice on stuff.
Then today, she tells me that Baboo was telling her last night that she should be careful and that "bad things" could happen so she should watch out, and somehow, they figured that Baboo should come to the formal to watch out for her and be her quote unquote "bodyguard." And supposedly, she would talk to me about inviting him as my date because I'm friends with Baboo already, and "would probably ask him" to this formal anyway. (The girls have to ask the guys.)
And so in response to my friend, I was like, "haha, whatever, you just want me to ask him so that you can have two guys that you like at this dance at the same time." So she says, "noooooo, i was just suggesting somebody since you don't know who you're going to ask, and you're already friends with him, and he just wants to be there to kinda watch out for me too."
Do you see the beef?
So the main reason Baboo would be going is to watch out for my friend, not because I asked him to go with me, and the way my friend kinda assumed that I would just ask him because she wanted me to - so that she could have both Boob and Baboo there at the same time. Grr. And to put me in a position where I know I'm going to disappoint her is pretty beefy, because Baboo was originally a contender for yours truly's date, but after she told me of this little clever plan, I would just feel stupid asking Baboo, because it's only for her that I would be asking him, and he would only be going for her "safety" or something silly like that. And unless I want to make this "the night of her life," which I'm not so inclined to do, I'm going to stay beefed and ask somebody else to be my date.
I am still beefed, but not too much because I know I shouldn't really be that beefed with her. Ho hum.




THE VERDICT: WHAT CAN IT MEAN?????
~~~~~~~~~~~~~~~~~~~~~~~~~~~~~~~~~~~~~~~~~~~~~~~~~~~~~~~~~~~~~~~~~~~~~~~~~~~
Beef Story #36:
Author: The busdriver


Yeah, well I was making a routine bus stop at the Hsia house to pick up James Hsia and take him to Puzzlefighter school. He gets on the bus, and everything's well and good. I'm driving along minding my own business, and -all of a sudden- the crazy cajun comes out of nowhere like a rock falling from the sky and kicks me in the head!!! I mean, I'm just here doing my job, and this insolent little punk catches me off and jacks the bus!!! That's a bunch of crock! I bet little James Hsia thinks he's ready to take on Master of the Universe just cuz he jacked the bus from The Busdriver. It's my fault for not being "aware of the situation". Frankly, I'm disappointed in myself for getting taken by surprise like that. Pretty embarassing... I need to get back into busdriving shape... cuz this is happening way to much. i mean, this happened twice last week two. First by some loud colorblind gook and then some crazy pinoy with pecs of steel. I think the pinoy's name was Boobs or something like that. Well anyways, this is a notice. The busdriver will be back from Busdriver Inservice (occurring this next week). When he does, you kids better have the bus all nice and detailed cuz he's gonna take the bus back... ALL PICKUPS WILL GO WITHOUT INCIDENT FROM NOW ON.
THE BUSDRIVER (of puzzle fighter)




THE VERDICT: WHAT??? YOU CALL YOURSELF A BUSDRIVER? LOOK AT YOUR PASSENGERS, NOT THE ROAD.
~~~~~~~~~~~~~~~~~~~~~~~~~~~~~~~~~~~~~~~~~~~~~~~~~~~~~~~~~~~~~~~~~~~~~~~~~~~
Beef Story #35:
Author: Lenny


My beefy story actually happened a long time ago. The reason why it took so long to put up is because I'm too busy waging war with her. Anyways, I just finished making my special roast beef sub in the make-your-own-sub line at Subway and proceeded to the cashier. The lady rings it up and say ,"$5.07" I give her a twenty and say, "hold on. I got some change" She's like, "no. it's alright" and rejects my change!!!!!!! So instead of getting a buck back and getting rid of some of the overflow of change i got, I'm stuck with an extra 97 cents jingling in my pocket! that's hyper beef. To add insult to injury, she doesn't give me any quarters but dimes and nickels! THAT'S LIKE INSULTING MY MOTHER LEVEL OF BEEF. I tried to tell her that all i needed was a dollar, and she gives me this "I'm too dang lazy to put back all the change i meticulously counted up" and say, "no." Thus, subway war 1 started. I will win the war. How? By paying for my next combo meal in nickels, dimes, and pennies... just the way squirrel lady likes it. Bet she'll like that.




THE VERDICT: BEEF DOESN'T EVEN BEGIN TO DESCRIBE THE MAGNITUDE OF BEEF EMANATING FROM LOUISIANA.
~~~~~~~~~~~~~~~~~~~~~~~~~~~~~~~~~~~~~~~~~~~~~~~~~~~~~~~~~~~~~~~~~~~~~~~~~~~
Beef Story #34:
Author: Eric Lindsay


I'd like to take a little time here to expound upon the virtues of our fine Rice University Center for the study of Languages. Those ingenious COMP majors, working with the LRC people, have created for our enjoyment a FINE, FINE Kanji testing system called "extemplate." Although the programming is undoubtably sound, and the interface looks pretty good, I have some major beef with the fact that nothing in this program works. I might point out that in my short 30 minutes of use, I managed to see the scores and ID numbers for:
1)myself (8/9--89%)
2)Emi Nomura (7/9--78%) ID number ??????
3)Carol Chen (not yet submitted) ID number 615???
4)Amy Furgeson (not yet submitted) ID number 713723


Wow! I must say, this program rocks the house! It's off da hook!



THE VERDICT:
~~~~~~~~~~~~~~~~~~~~~~~~~~~~~~~~~~~~~~~~~~~~~~~~~~~~~~~~~~~~~~~~~~~~~~~~~~~
Beef Story #33:
Author: Eric Lindsay


First of all, I'd like to point out the power we, the beef council, wield over the unsuspecting automotive populous. Here is a quote from Edmunds.com:
"Oh well, that's a shame because we really had a BEEF with the way the gearbox worked "
Wow! No joke! They've got beef with Audi!
Anyway, here's my beefy story...or rather, my beef question. What's up with people's calling my weird names this year? Has my name gotten more difficult to decipher as I have aged or something? Oh well, later guys,

Duncan.



THE VERDICT: WEAR A NAME TAG, DUNCAN.
~~~~~~~~~~~~~~~~~~~~~~~~~~~~~~~~~~~~~~~~~~~~~~~~~~~~~~~~~~~~~~~~~~~~~~~~~~~
Beef Story #32:
Author: Lenny


I got this beef with Sean... again. He knows who my screw date is and won't tell me. Man... that's like telling a guy stricken with some massively infectious disease that you have the cure, but you won't let him have it cuz he has to figure it out himself. That's just plain wrong. I want to know NOW. : (




THE VERDICT: IT'S A SAD DAY IN BEEF TOWN.
~~~~~~~~~~~~~~~~~~~~~~~~~~~~~~~~~~~~~~~~~~~~~~~~~~~~~~~~~~~~~~~~~~~~~~~~~~~
Beef Story #31:
Author: Reuben


So I'm living in Houston just minding my own business, when this mosquito lands on my arm and starts sucking my blood. Not only that, but he leaves his saliva in my skin and it forms a bump on my arm that really itches. Then he tells all of his friends to come and bite me. It seems like the mosquitoes love harassing me. Why do they like the taste of filipino flesh? Stupid bugs.




THE VERDICT: DIE INSECTS!!!!!! DIE!!!!! MUHAHAHAAHAAAA!!!!
~~~~~~~~~~~~~~~~~~~~~~~~~~~~~~~~~~~~~~~~~~~~~~~~~~~~~~~~~~~~~~~~~~~~~~~~~~~
Beef Story #30:
Author: Lenny Chow


I got another beef for you. It's such big beef it can only come from texas... in the form of a very large cow. Anyways, it started out as a regular sized beef, but it got slipped some bovine growth hormone over the next couple of days and turned into titano-beef... here goes:
yeah, so this week was crap week, right? Problem sets due left and right, csa study break to prepare for (minor beef: where were you at the study break sean?), and of course the toppers, the orgo and bio test. I mean, I'm happy about the way the week went (got baptized!!! [no beef with Jesus], did well on orgo, we'll see on bio but it's droppable). On monday, I'm walking downstairs with Mr. Nopachai to get some dinner before the big orgo review on monday. We go downstairs and there's a line into the kitchen (not even counting the long line INSIDE the kitchen) that's longer than the Saturday lines at a certain buffet restaurant... So we bail and run to Baker to get some quickie food to save time. Lo and behold! no line! However, as cesar and nopie went through quite smoothly, the lady slides my card and goes, "whoa.... hold up on in thea." I'm thinking, "yo... i'm in a hurry yo." she's says, "you ain't got no meal plan." Man.. I was planning on saying, "I call b/s!!! !" and punch her in the arm cuz i've been getting food all the time since the beginning of the year (wait,i never swiped my card before. mmmmmmm...) she was nice though and let me go without charging me. At sid, the same thing happened, she's like, "get that thing fixed, yo!" I'm like, "fo sho. one love." and she let me go eat without charging me. Then the morning of see you at the sallyport comes, and I'm wanting some breakfast. I go down, and it's the hispanic lady that charged me 7 bucks for like the same thing the guy in front of me got for 2.50 (on five separate occasions). She's like, "oh yeah, it works and proceeds to deduct 8.50 off of my roll over from last year!!!" So i'm pretty beefed about this already, and it happens again at dinner. I can't argue cuz i have orgo that night... but that turned into oversized beef.
So when did this turn into titano-beef? It turned titano sized today. I go to the cashier's office saying, "wsup yo, that meal card ain't workin, knowhatimsayin?" cashier's office retorts, "man... you're a little crispy, but you ain't got no meal plan. Plus, you ain't on campus yo." I tell them that the last time i remember, i be livin up in sid. they don't know what i'm talking about.
So basically, i technically don't have a place to live and i don't have money to eat. Now that's titano beef. F&H better be getting up some major compensation...




THE VERDICT: IT'S TIME TO TRANSFER TO MARTEL
~~~~~~~~~~~~~~~~~~~~~~~~~~~~~~~~~~~~~~~~~~~~~~~~~~~~~~~~~~~~~~~~~~~~~~~~~~~
Beef Story #29:
Author: Lenny Chow


It's a kind of short beef story because i don't have that much time. I promise to write a bigger and better beef story later (cuz i havea really good one). Anyways, what kind of people put the orgo test and the bio test in the same week?!? I mean, that's just retarded!!! I also got beefs with the people at the job fair. How come only the c/s people get to have cool junk (laser pointers!)and T-shirts? I pretended I was a c/s major to get the goods, but I felt cheap and dirty for doing that.
Oh yeah, what's up with Eric and Sean going "swimming" everyday we have stat 280? HUH?!? Ok, I understand if Eric wants to go swimming but SEAN? First time sean went "swimming" he got really upset and kept calling her "hao cho". If she's hao cho... then why does he keep coming back to "swim". that's my take.




THE VERDICT: HAO CHOU...HAO CHOU.....
~~~~~~~~~~~~~~~~~~~~~~~~~~~~~~~~~~~~~~~~~~~~~~~~~~~~~~~~~~~~~~~~~~~~~~~~~~~
Beef Story #28:
Author: Hardcore


So I come back to school for the fall semester of 2000. It turns out that the school decided to move the commuter lot to the back and put a random visitor lot before it. Now i got beef with all visitors.. and faculty too..




THE VERDICT: PARKING AT RICE SURE SUCKS...
~~~~~~~~~~~~~~~~~~~~~~~~~~~~~~~~~~~~~~~~~~~~~~~~~~~~~~~~~~~~~~~~~~~~~~~~~~~
Beef Story #27:
Author: Catherine "I love crabbing" Lee


One time I was walking from the stadium lot to the gym to work out. As I was getting ready to cross the inner loop in front of Shepherd School, a shuttle bus pulled to a stop before me and the doors opened. The driver insisted that I get in, even though I was only going to be walking another 10 feet to the gym. I kindly turned down his offer, and walked in front of the bus to get to the other side. I contined my slow and steady walking pace, when to my surprise, the shuttle bus began to follow me, at the same leisurely speed I was walking, backing up traffic behind him. The driver leaned his head out the window and asked me to work out with him at 6 pm. I told him I had to go to church at 6. I went inside the gym to work out. When I came out, there he was. He had decided to "meet" me in front of the gym at 6:05 to go to church with me. I didn't even invite him!!!




THE VERDICT: MMMMMMMM....
~~~~~~~~~~~~~~~~~~~~~~~~~~~~~~~~~~~~~~~~~~~~~~~~~~~~~~~~~~~~~~~~~~~~~~~~~~~
Beef Story #25 & 26:
Author: Reuben


Here's a two-in-one story (although they are in no way related).
First of all, this one isn't a beef story. This is a vomit story. We're drinking smoothies in the Q when Sean hears "Bleeeehhcchhh!!!" I look over and see this guy with blue shorts hunched over looking at the ground. Looking at his own vomit. So I say what any other humane person would say: "Are you alright?" He sez: "Yeah, I'm ..... BLLLEEEEEECCCCCHHHHHH!!!!!" The vomitter will now from this day forth be forever known as TGWTU (the guy who throws up). By now the smoothie TGWTU ordered is finished and Jerome (who works with me at smoothie king) sez: "Here's your smoothie....ewwww."
Then one of the other smoothie king employees (who incidentally, looks like Olen Rambow) has to clean up the vomit because Jerome wanted to go try out for Pearl Harbor (even though he left after the vomit was all cleaned up, but that's another story). The vomit was on the floor, on the table, on the chairs, oops, maybe I shouldn't mention that. Then I go to make another smoothie and I turn around and see TGWTU with his hands lifted up saying "can I wash my hands?"
Me: "yes....over there."
then his girlfriend came and he acted like he never threw up and he left. Then he came back because he forgot his watch or something and we all carefully watched him to make sure he didn't spew again. TGWTU seems like a pretty cool guy. Too bad about the circumstances the surrounded our first impression of him.

This next story happened at Rice. We were doing fly's with the machine with weights on both sides. I finished one set and then it was Sean's turn but then this weird guy steps in and takes one side of the machine and does tricep exercises. And then we're like: "I guess we're done with flys now."
"This is definitely going in the beef files."




THE VERDICT: HOWDY!!!! WELL PAINT ME RED AND SLAP ME SILLY IF THAT AIN'T THE BEEFIEST BEEF IN THE WHOLE DURN STATE O' TEXAS. Y'ALL COME BACK NOW, YA HEAR???? YEEEEEHAWWW!!!!! I LOOOVVEEE BEIN' A TEXAN!!!!
~~~~~~~~~~~~~~~~~~~~~~~~~~~~~~~~~~~~~~~~~~~~~~~~~~~~~~~~~~~~~~~~~~~~~~~~~~~
Beef Story #24:
Author: Obi Wan Kenobi


So there we were, trying to rescue some teenage princess who evidently fell in love with a seven year-old boy with jedi powers when this dumb looking jive-talking alien named jar-jar comes along and totally ruins the whole movie.




THE VERDICT: JAR JAR MUST DIE IN EPISODE 2.
~~~~~~~~~~~~~~~~~~~~~~~~~~~~~~~~~~~~~~~~~~~~~~~~~~~~~~~~~~~~~~~~~~~~~~~~~~~
Beef Story #23:
Author: Joyce Lee


Sean S. Kim - he killed Mr. BIG BEAR at the Lee Family Backyard next to the swimming pool. Mr. BIG BEAR was our family BEAR although he is really nonexistent. But since Sean claims he killed a bear in our backyard, I will claim that we had a bear named Mr. BIG BEAR. GRRRR! Mr. BIG BEAR was our family pet. How would you feel if Sean went over and killed your family pet?! This is a picture of him after he defeated Mr. BIG BEAR. He looks very savage. Maybe he needs to be locked up.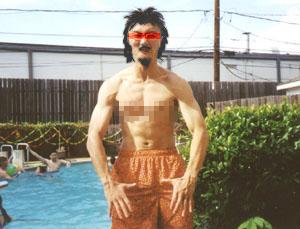 Pretty gross!




THE VERDICT: I'M NOT SEAN, I'M SHAWN, SEAN'S EVIL TWIN!!!!!! MUHAHAHAHAHAA!!!!!!
~~~~~~~~~~~~~~~~~~~~~~~~~~~~~~~~~~~~~~~~~~~~~~~~~~~~~~~~~~~~~~~~~~~~~~~~~~~
Beef Story #22:
Author: Becky Seo


i am a "regular" at the ssolbbs, and this weirdo named meooooow cat says weird things!! well... it's not just that.. but i have beef with him. sorry~ i'm just a random person.




THE VERDICT: THE TRUTH IS....I AM MEOOOOOW CAT. IT WAS ME ALL ALONG...MUHAHAHAHAHA!!!! HEAR ME ROAR....meowww...just kidding...PRETTY BEEFY
~~~~~~~~~~~~~~~~~~~~~~~~~~~~~~~~~~~~~~~~~~~~~~~~~~~~~~~~~~~~~~~~~~~~~~~~~~~
Beef Story #21:
Author: Jonathan Krause


One time I was waiting tables at SAKE LOUNGE. When this old couple walks in. I take their order, but when the guy wanted chuka salad. I had to tell him we were out of it for the day. At this point he threw the menu at me. THAT was some major beef there. He ordered some soup, which I brought out like 5 minutes later, and when I had it he said "Is it just me, or is the service a little slow tonight?" THAT SOUP CAME OUT FAASST I tell you. Then he complained it was too salty, and he didn't want to pay for it. He was asking for the manager every 5 minutes. I wanted to pour the soup on him. When he left, the pen I gave him so sign the bill with , APARENTLY didn't work. O well... He later wrote in a letter of complaint, he tried to be funny in it, o well. MAJOR BEEF!



THE VERDICT: That's not just beef, it's a whole cow! You should've 'chunged' that guy on the head with the head of a bull before he escaped.
~~~~~~~~~~~~~~~~~~~~~~~~~~~~~~~~~~~~~~~~~~~~~~~~~~~~~~~~~~~~~~~~~~~~~~~~~~~
Beef Story #20:
Author: Casey


Waaaaay back, my friends and i wanted to toilet paper someone's house one day. I had some 2 week expired eggs also... WE didn't know which house exactly the "victim" lived in, but as we were crossing the street to some houses, some cops drove by us and we jumped into our cars. The cops stopped us and asked us what we were doing. We tried to think up a story real quick thinking he didn't see all the t.p. in our hands, but before anyone could say something, the cop goes, "you have a little peice of evidence hanging out." I had closed the door on some toilet paper and had given us away. Oooops.




THE VERDICT: PHEW!!! I THOUGHT I WAS THE ONLY ONE WHO'S HAD A RUN-IN WITH THE LAW
~~~~~~~~~~~~~~~~~~~~~~~~~~~~~~~~~~~~~~~~~~~~~~~~~~~~~~~~~~~~~~~~~~~~~~~~~~~
Beef Story #19:
Author: Casey


Last friday I drove my car to Baytown and it was late when we got there, so i crashed there and left Saturday morning. I returned home Saturday and opened up the compartment (drink cubby hole)in my car to get my camera... only to discover my camera was gone! Some punk broke into my car and took my camera during the night. It was a cheap, ghetto camera but it had a new roll of film with some good pictures on it. :( The house owner lives in a nice neighboorhood but you can't trust the neighbors. I have beef with all of them until i find out who took it. I have to go camera shopping now...bah!




THE VERDICT: PHEW!!! GOOD THING I LIVE IN LOUISIANA...WHERE NO CRIME EVER OCCURS
~~~~~~~~~~~~~~~~~~~~~~~~~~~~~~~~~~~~~~~~~~~~~~~~~~~~~~~~~~~~~~~~~~~~~~~~~~~
Beef Story #18:
Author: Joyce Lee


I do not know why the BEEF HAS BEEN ATTACKING ME LATELY! GrrrR! Today, me and Sam went to AMC30 to watch "X-Men" which was AWESOME by the way. Yes, we caught the last show on opening night, waited two hours in line, finally got the show started at 12:45 AM. Everything was going just fine... just right... that is, until the movie was over, and Joyce got up to leave. Then, she felt like she was stuck to something, and with a little effort, managed to get to her feet, but not before realizing something was stuck to her butt. HER BUTT. Plain gross. She felt her butt, and realized that she sat in some gum. Yes, old, dried gum is a little better than fresh juicy new gum, but it still makes situations sticky and gross. So Joyce was not happy because she was wearing nice clothes since she had just gotten back from a concert before she and Sam left to go watch the movie. She was very unhappy. She has beef with that seat. It is in theatre #16, 3 rows from the middle thing that separates the lower seats from the upper seats, and about 15 seats down. ! You will see some greenish-blueish gum in the seat. Don't sit there. Unless you want to have a beef attack to write about. =( GRRR!




THE VERDICT: WAIT, SO WHO'S TELLING THIS STORY, SAM OR JOYCE?
~~~~~~~~~~~~~~~~~~~~~~~~~~~~~~~~~~~~~~~~~~~~~~~~~~~~~~~~~~~~~~~~~~~~~~~~~~~
Beef Story #17:
Author: Joyce Lee


Yeah, so once upon a time, I go on a mission trip to mexico - this was in the summer of '98. We're in Oaxaca, Mexico, and it's almost the last day of the trip. There are about 12-15 people riding in the bed of a pick-up truck coming back from the beach, and the people included in this truck are me, Jimmy Wu (one of the most awesome people ever to have lived), Sean Lindsay (oops, I mean Kim), and Angel I don't know his last name.
Well, I forgot really what was going on before this, but suddenly, Sean gets up and smacks Angel "whap!" on the butt (Angel was one of the people standing up). Angel turns around, and is really surprised, and then Sean points and says "Gozo (Joyce) Gozo!" and I'm like "QUE?! QUE EN EL MUNDO?!" (not exact words) and Angel kinda laughs it off, and is like, uhh okay, and I'm like NOOO!! SEan!!! and then Angel is thinking whatever, so he turns back around. THen Jimmy Wu, who was laughing at seeing all this, gives Angel another realll spanker! Angel whips around again, and this time, he really thinks something's up. Jimmy imitates Sean, pointing at me and saying - "Gozo Gozo!" I'm pretty much fuming and I think Angel's butt is stinging, so he moves to the edge of the truck where he can sit down. Meanwhile, Sean replaces Angel and is standing up, so I take my chances and hit Sean in the butt! Then I'm like "Jimmy did it!" and Jimmy starts laughing and says "Haha, no, Joyce, haha!" a! nd SEan laughs at me and says "Yeah, good one Joyce!" and Angel is looking at me funny. That is where the original beef with Azn-Sen-Five-A-Tion came from.
WARNING: The above story was intended for mature audiences only. If you accidentally read the story above and you are not old enough, I apologize for the pyschological trauma that you're sure to be feeling right now. My bad.




THE VERDICT: I DENY ALL ACCUSATIONS THAT I TOUCHED ANOTHER MALE'S BUTTOCKS
~~~~~~~~~~~~~~~~~~~~~~~~~~~~~~~~~~~~~~~~~~~~~~~~~~~~~~~~~~~~~~~~~~~~~~~~~~~
Beef Story #16:
Author: Joyce Lee


Hey, so once upon a time - more like today, I had to go give Sam a ride home from work. So, Sam was driving back home, and we were on Gessner, going under the I-10 underpass, when I looked to the left, and there was a red '93 Honda Accord with the passenger side window open. Then, SUDDENLY, this guy spit on our car. I was like "WHAtaTAT the..?!?!!" and Sam was like, "what happened?" so I told him that the guy next door spit out some YELLOW CHUNKS and it almost landed on our car!! When we got home, we checked for yellow chunks, but luckily, the guy missed. But it was some heavy beef knowing that he was trying to spit on OUR CAR! I thought that was very rude. >(




THE VERDICT: I ALSO DENY ALL ACCUSATIONS THAT I TOUCHED ANOTHER MALE'S BUTTOCKS
~~~~~~~~~~~~~~~~~~~~~~~~~~~~~~~~~~~~~~~~~~~~~~~~~~~~~~~~~~~~~~~~~~~~~~~~~~~


Beef Story #15:
Author: Reuben

Okay, for your amusement I've dug deep into my own personal beef file and found some from way back when
It was my junior year at WCS. Nelson (A junior from Clements High School at the time), my brother Joel, and I didn't have anything to do so naturally we decided to go stalk someone from Clements. This was around graduation time so the Clements seniors were having their pro-grad or whatever where the seniors spend the night at school (we never had one of those...stupid westbury) Anyway...I don't think they would have actually let us into the building so instead we drove around the parking lot looking for Nelson's friend's car. We did this for about 10 minutes until the "police officer" pulled us over. Then we got nervous. "Joel!!! Put away that water gun!!!" I screamed. To make a long story short, we're lucky to be alive, since the cop thought we were reaching for our "gats" and were about to "bust a cap." He ended up searching the car and searching us. We never went back to Clements ever again. Except for Nelson, since he went to school there.




THE VERDICT: ...
~~~~~~~~~~~~~~~~~~~~~~~~~~~~~~~~~~~~~~~~~~~~~~~~~~~~~~~~~~~~~~~~~~~~~~~~~~~


Beef Story #14:
Author: Reuben

Here's another one from back in the day...
An escapade during my sohpomore year in high school...My friend Ryan, Joel, and I started getting into the game of golf but were too poor to afford clubs, golf balls, club fees, etc., so to practice our driving we would go to the driving range in the middle of the night and pick up "stray" golf balls that were lying around. On a good night, we would have at least four buckets full of golf balls that we would use the next day. We rationalized our actions by saying that we were merely "borrowing" the balls since we would hit them back anyway (okay, I know it's wrong now, I learned my lesson, just keep reading...). One night, there were four of us: Ryan, Jerome, Joel, and Me. It was supposed to be another routine pickup, but something went horribly wrong. As we were returning to load the buckets of golfballs into my parents' van, a police car drove by and we all ducked behind a hill. The cop slowed down and investigated my car (since it was illegally parked) and we decided to run away. We devised a plan. Jerome and Joel would wait with the golf balls at a secure location while Ryan and I would get the car and then pick them up. After much sneaking around, we got to the car and thankfully found no tickets on it. We drove to the secure location to make the pick-up but then we saw the lights of a car driving towards us. In the next few frantic minutes, we hastily loaded the golf balls into the van but then ... THUDD.... golf balls all over the street. We decided to abort the rest of the mission and cut our losses and we drove back to Ryan's place. There we made a secret blood pact that we could never tell anyone what happened on that night....oops.




THE VERDICT: NO COMMENT
~~~~~~~~~~~~~~~~~~~~~~~~~~~~~~~~~~~~~~~~~~~~~~~~~~~~~~~~~~~~~~~~~~~~~~~~~~~


Beef Story #13:
Author: James Hsia

I went over to my cousins' house a little while ago around dinnertime, but I had already eaten. Anyway, they are going out to eat at this restaurant I had just gone to 6 days ago, so I'm thinking, "I'll just stay here and play N64 or something". But no, they insist, so I go. It turns out that they're meeting some relatives from the side I'm not on (their mother's side) whom I've never seen before in my life. So all during dinner, I don't eat much because I already ate, and I don't know most of the people, so I just sit there quietly watching them talk and eat for an hour.

THE VERDICT: EHHH, ALRIGHT WE'LL ACCEPT YOUR STORY THIS TIME BUT NEXT TIME IT HAS TO BE EVEN BEEFIER
~~~~~~~~~~~~~~~~~~~~~~~~~~~~~~~~~~~~~~~~~~~~~~~~~~~~~~~~~~~~~~~~~~~~~~~~~~~


Beef Story #12:
Author: Eric

So I'm going to the national JACL convention...my aunt tells me I get to be the youth representative for the Mountain Plains district. Sounds good to me...right? So then, AFTER I'm already on the plane and can't escape, the same aunt informs me that actually when she told me that she ruined the lifelong dream of some girl in Colorado who wanted to be the rep. THEN she tells me that, not only did I forcibly (and unknowingly) take her spot, this girl will actually BE AT the convention. So I arrive and finally meet this girl, whose first words to me are "Hi. You took my spot. Thaaaaanks." So then it is decided that we are going to be CO-YOUTH REPS together. This means I'm sitting next to this girl the whole time!!! And not only were we co-reps at the convention, we're now co-reps for the next 2 years! I guess we're pretty cool with each other now...but sheesh...couldn't someone have told me or something?


THE VERDICT: SO, IS THE GIRL PRETTY CUTE OR WHAT? ~~~~~~~~~~~~~~~~~~~~~~~~~~~~~~~~~~~~~~~~~~~~~~~~~~~~~~~~~~~~~~~~~~~~~~~~~~~


Beef Story #11:
Author: Reuben

Sean and I had just finished working out at the Q and decided to sit in the sauna for a while when this guy starts telling us about Bible stuff. Ok, I thought, cool, he must be a Christian. Then he started saying weird stuff like Jesus isn't God so we started to tell him he was a bunch of crock when he had to leave. It was at that point where Sean and I simultaneously exclaimed: "WHAT???"


THE VERDICT: PRETTY BLASPHEMOUS ~~~~~~~~~~~~~~~~~~~~~~~~~~~~~~~~~~~~~~~~~~~~~~~~~~~~~~~~~~~~~~~~~~~~~~~~~~~
Beef Story #10:
Author: Sean Kim

ok so i go into smoothie king with reub, and this weird european guy is talking to the big, buff smoothie king employee, showing him pictures of Jesus and funky angels. so i look on this name tag and he's from the Unification church! you know, the cult where that crazy gook thinks he's God. crazy gooks! pretty beefy with gooks now. he probably stole reub's spoiler. mmmmm.... might have to boycott kimchi....


THE VERDICT: PRETTY RACIST, SEAN ~~~~~~~~~~~~~~~~~~~~~~~~~~~~~~~~~~~~~~~~~~~~~~~~~~~~~~~~~~~~~~~~~~~~~~~~~~~
Beef Story #9:
Author: Sean Kim

ok. i'm standing in sammy's waiting for reub to come. then i see this weird guy whom i kinda knew last year. so i acknowledge his presence by raising my head, which is apparently a really cool way to say hi these days. i do it about 4 times and he completely ignores me all four times.


THE VERDICT: MMMMMM...PRETTY BEEFY!!! ~~~~~~~~~~~~~~~~~~~~~~~~~~~~~~~~~~~~~~~~~~~~~~~~~~~~~~~~~~~~~~~~~~~~~~~~~~~
Beef Story #8:
Author: Sean Kim

ok so i go on this ski trip and sit next to this girl. after not talking much to her AT ALL afterwards, i find out three months later that we've been going out for three months! good thing i had this thing for another girl, cause that's why she wanted to break up with me. pretty funny since i didn't think you could break up with someone you never went out with. pretty beefy...... niu rou.


THE VERDICT: WOW, I'VE NEVER SEEN THAT MUCH BEEF IN ONE PLACE IN MY LIFE SINCE THE GREAT BEEF EXPLOSION OF '99. ~~~~~~~~~~~~~~~~~~~~~~~~~~~~~~~~~~~~~~~~~~~~~~~~~~~~~~~~~~~~~~~~~~~~~~~~~~~
Beef Story #7:
Author: Sean Kim

ok so i go into the brown elevator. i need to get to the fourth floor but i got a ball of gas waiting to eurupt in my pants. so i know i can hold it, but then this dude says "hold the elevator!" so now i need to wait for the door to close again. mmmm... i showed him. left a fart nice and silent but deadly in smell. upon reaching the fourth floor it hadn't smelled yet, but i know he felt the effects of my wrath. i still got beef with him, and he sure does have beef with me..... pretty..... STINKY!


THE VERDICT: HMMM, COULD THIS BEEF STORY BE RELATED TO BEEF STORY #3? ~~~~~~~~~~~~~~~~~~~~~~~~~~~~~~~~~~~~~~~~~~~~~~~~~~~~~~~~~~~~~~~~~~~~~~~~~~~

Beef Story #6:
Author: Reuben

One day while working at Smoothie King(tm), I was blasting FinKL music and making a smoothie for a customer so my back was turned...then all of a sudden the music volume goes down and I turn around and see one of the Q managers sneaking away from the CD player. Then I was like, "YOU'D BETTER RUN, PUNK!"


THE VERDICT: YO DAWG, THAT'S BEEFY
~~~~~~~~~~~~~~~~~~~~~~~~~~~~~~~~~~~~~~~~~~~~~~~~~~~~~~~~~~~~~~~~~~~~~~~~~~~

Beef Story #5:
Author: Eric Lindsay

I was enjoying the solitude of one of the Mudd computer labs...listening to and watching videos of car races. I normally can't do that in the labs cuz there are too many innocent bystanders who don't want to listen along. So, there I go, I've got "The Touch" playing and a big Supra burnout on the screen, and in walks this Asian girl. She gives me a dirty look and sits down. So I have to shut it all down and pretend to be updating my web page quietly. Unfortunately, this girl called in her teacher or something and she also came in the lab and started playing around...the two of them were having a grand ole time laughing at my inability to watch mpegs. They finally left like 45 minutes later, so here I am...oh well


THE VERDICT: WHOA MAMA THAT'S BEEFY
~~~~~~~~~~~~~~~~~~~~~~~~~~~~~~~~~~~~~~~~~~~~~~~~~~~~~~~~~~~~~~~~~~~~~~~~~~~

Beef Story #4:
Author: Hakeem Olajuwon

For the last time, leave my family alone.


THE VERDICT: BEEFY
~~~~~~~~~~~~~~~~~~~~~~~~~~~~~~~~~~~~~~~~~~~~~~~~~~~~~~~~~~~~~~~~~~~~~~~~~~~

Beef Story #3:
Author: Anonymous
MATURE AUDIENCES ONLY

One time I was in the elevator when this guy came in and farted. I knew I didn't fart, but he must have not known he farted because he gave me this weird look like I was the one who farted or something...


THE VERDICT: PRETTY BEEFY

~~~~~~~~~~~~~~~~~~~~~~~~~~~~~~~~~~~~~~~~~~~~~~~~~~~~~~~~~~~~~~~~~~~~~~~~~~~

Beef Story #2:
Author: Dulles Thug
MATURE AUDIENCES ONLY

Some guy keeps hanging around my driveway and looking at my car. I think he's jealous of the new spoiler on my car.

THE VERDICT: EH, PRETTY BEEFY

~~~~~~~~~~~~~~~~~~~~~~~~~~~~~~~~~~~~~~~~~~~~~~~~~~~~~~~~~~~~~~~~~~~~~~~~~~~

Beef Story #1:
Author: Anonymous Brown Resident

One day I made my usual trip to the community refrigerator to pick up some ice cream when to my surprise I found a pint of mint chocolate chip ice cream with dirt, expired milk, and ants in it!!! I ate it anyway, just to spite the owner...but the NERVE of that guy! Sheesh!


THE VERDICT: PRETTY BEEFIFIED
~~~~~~~~~~~~~~~~~~~~~~~~~~~~~~~~~~~~~~~~~~~~~~~~~~~~~~~~~~~~~~~~~~~~~~~~~~~